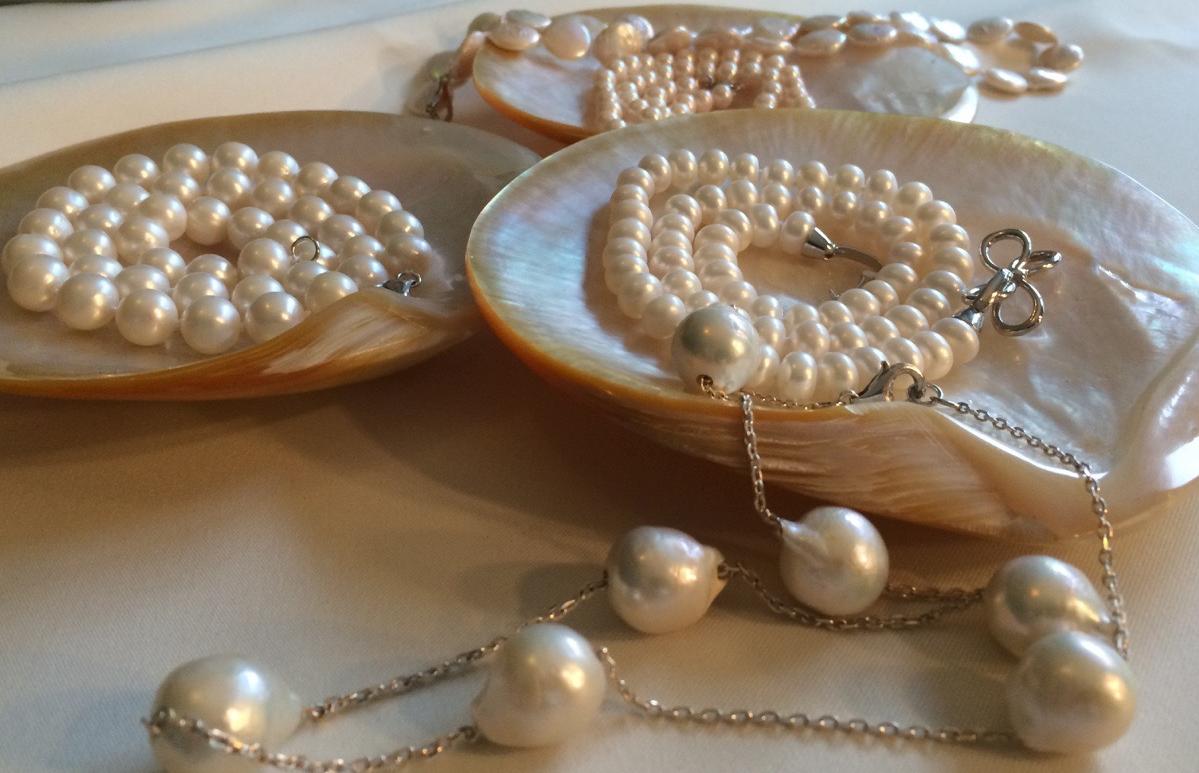 The Secrets of Pearls
Pearls are back! I know this because my daughter asked to borrow my pearl necklaces, not for a wedding or an interview but for a night out clubbing with the girls. I have to admit, grudgingly, that 4 twisted rows of Pearls did look stunning. Pearls are everywhere-on shoes, in hair, on jeans, on bags. What used to be the ultimate corporate look has now transcended into popular everyday wear. Look at the major fashion brands catwalks for Pearls. What puts my daughter, the Duchess of Cambridge and Rihanna on the same page? Well, it's Pearls!
Today, mostly all pearls are cultured pearls. Natural pearls are very rare and are those seen on the historical portraits of Queen Elizabeth 1 or Frances Drake looking very cool with one drop pearl earring. But people tend to be  confused about pearls and why one necklace costs €800, one €8,000 and a very similar one costs €100. Let me explain.
There are four main types of cultured Pearls:
Akoya, Tahitian, South Sea and Freshwater Pearls. The first three are beautiful seawater pearls grown in regions across SE Asia, Polynesia islands, Japan and Australia. They are quality Pearls with beautiful lustre, colour and shape. And they tend to cost plenty.
Freshwater Pearls, however, are grown in freshwater, that's in ponds and lakes across SE Asia. They can be grown in large quantities and though some are poor quality, it is possible to produce an excellent quality Pearl ( size, shape, colour, nacre, lustre, surface ) and they represent the biggest bargain in the jewellery world.
Pearls are natural organic gems and often take years to grow. A small piece of the shell or Mother of Pearl, what an appropriate name, is inserted into the mollusc, which then secretes nacre over it, as a defensive response to the irritant. Over time this transforms into a Pearl.
Freshwater Pearls are much less expensive that other types of Pearls and come in a variety of shapes, sizes and colours. A  beautiful, glowing 18 inch 6-7 mm Pearl necklace on sterling silver for under €100 is outstanding value and can be an everyday item. Now, we see jewellers creating lovely pieces using baroque shaped pearls or using the larger 12-15mm pearls for stunning statement pieces.
But here's the best bit -Pearls are transformative- put them on and see the difference. The trick is the way the Pearl is formed in the shell. Concentric layers of nacre build up in a lattice like structure which absorb and reflect light in a very special way-the lustre – and which on a women's complexion translates into a special glow on the skin. That's why you see all the famous and glamorous women over the years wearing Pearls, and now we see fashion icons like  Lady Gaga, Madonna, Scarlett Johannson, all wearing pearls because Pearls do make you look and feel better.