the_title();?>
Pearls……..not just for your mammie's mammy!
Nope – it's time for cool girl Pearls. Try the baroque shaped ones for a different and casual look. Some people are stuck with the mental image of your Granny  wearing Pearls. Well, many glamorous grannies are wearing Pearls. But Pearls have really become a fashion statement for all ages. Pearls are now big in fashion.
Who's wearing Pearls? Look at who is now  wearing Pearls. Lady Gaga, Sarah Jessica Parker, Mariah Carey and Rihanna. Pearls ooze sophistication and style but now it's cool to wear Pearls. Princess Diana wore a multi-strand pearl choker. Audrey Hepburn is famous for her  pearl earrings? Women such as Elizabeth Taylor and Marilyn Monroe always wore Pearls to add to their sophistication and style. How do you wear Pearls.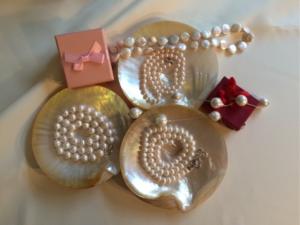 Good luck and good fortune. Freshwater Pearls  bring good fortune in love, money and luck. Pearls are thought to give wisdom and to cement engagements. But maybe that 's only myths and stories. What we do know is that Pearls bring style and sophistication to you .
Great Gifts. Pearls are wonderful gifts for anniversaries 3rd, 12th, 30th and a great present for those borne in the month of June, your birthstone is a Pearl. Many a man has been saved from the doghouse by Pearls. "No I haven't forgotten our anniversary, I was just waiting till I saw something special." Followed by a panic session on the internet and an express delivery and if the result is a lovely set of Pearls, then he may live to see another anniversary!!
Perfect for weddings.  Recently when I attended a wedding, all the ladies were presented with a small elegant jewellery box at dinner. Each box contained a lovely set of freshwater Pearl earrings as a souvenir of the wedding. They are still talking about it. What an impact it had, and believe me it was one of the less expensive parts to the wedding! 
Not cheap disposable jewellery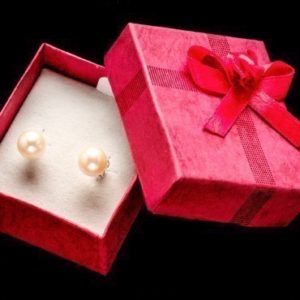 . Going into the  main retail stores and you see rows and rows of cheap jewellery. Looks glittery and fun but most is cheap and disposable. There's no sense of style of quality about it. Whereas buying a small Pearl bracelet or set of earrings will cost a little more but will give you years of pleasure and it helps knowing that Pearls are natural, organic, and uniquely original. Now you can't say that about mass produced junk jewellery.