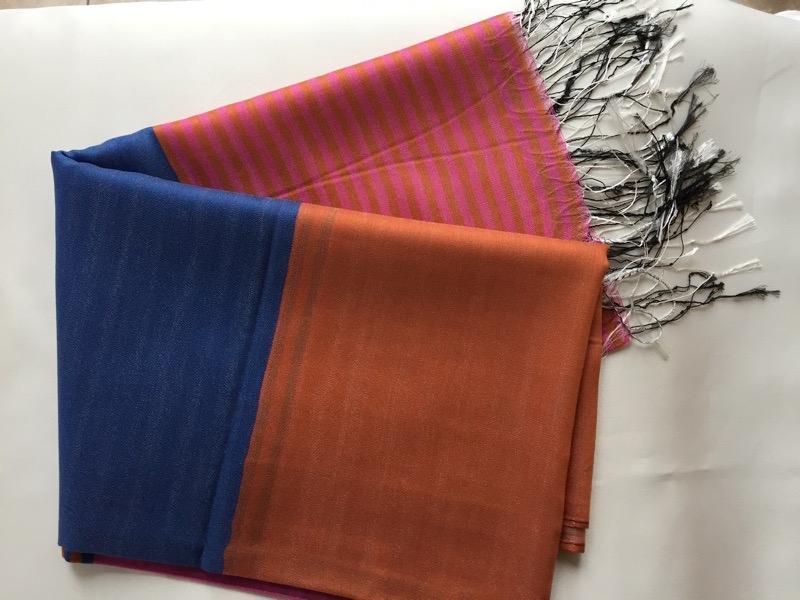 Silk scarves
Silk scarves in shades of pink, blue, gold
Pure and light soft silk, in a range of vibrant colours makes a beautiful scarf or shawl-it's big, 6″ x 2″ or 180 x 70 will keep you warm in winter and cool in summer.
Silk scarves are a thing of beauty and go so well with our luxury pearls. Our silk scarves are big-so you can wear them in many different ways but always they keep you warm in winter and cool in summer. Wearing silk against the skin provides a natural fabric to breathe easily and feels comfortable and luxurious. A silk scarf is always in fashion – and for those of you who want to look effortlessly fashionable then go no further. Whether you tie it to the strap of you handbag or around your neck or draped over your shoulders our scarves look and feel great.
And here at ilovemypearls I love scarf accessories – like a brooch, for instance. It fixes the scarf in one position that you would want it to stay in and works fine. But I have also found other, more exciting ways to wear my scarf – like using the scarf accessories.
If you do not have a scarf accessory at hand, you can always try to use  our 2 pearl ring or some jewellery piece of yours to accessorize your silk scarves with – but you should always have in mind it should not have any sharp ends as they might damage the silk irreparably. 
Keep them light as any heavier accessory that you might decide to use on a silk scarf can very easily overwhelmed the scarf, which is not the goal. The goal is to make the scarf stand out. The goal is to make the scarf look one of a kind piece and just to help it show its regal looks.
You can play around with beautiful elastic pearl bracelets, email us for a free elastic pearl bracelet – it is a wonderful way for you to invent various new ways of wearing your silk scarves. You will practically rediscover the beauty of your silk scarves this way. You will also find yourself complimented a lot for the new original ways of wearing/tying any silk scarf, making it an elegant fashion statement and transforming a piece of silk fabric into a piece of jewellery. 
36 in stock